With well over 70 golf courses in Costa del Sol, this makes it a big difference from the rest of touristic places. It is the first destiny in Europe in golf offers which makes an incredible atmosphere of sport and championships.
Climate is the determining factor when it comes to golf. Spring and autumn are the best times for playing, however, also in winter, especially when it is dry. In southern Spain with a particularly mild winter, golf is ideal as the weather is not that hot for players, but never so cold that you can't play. Hotel and car rental is cheaper than in the summer.
Almost every golf course in Spain has its own golf academy where a professional trainer will help you improve your game and style. Lessons can be booked in advance or on site. There are many golf holiday proposals like golf resorts or hotels that are specialized for golfers with their own golf course. Well known prestigious championship in Sotogrande "La Copa RGC" European Nations Championship Since 2007. Costa del Sol is in fact, a place to learn and play golf.
On the east coast, you have:
In Málaga there are the golf academies at "El Candado Club" and the Parador de Golf "Añoreta Golf" (Rincón de la Victoria) and inland, the "Escuela Alhaurín Golf Hotel & Resort" (Alhaurín el Grande) and the IH Golf Academy of "Guadalhorce Golf Club "(Campanillas).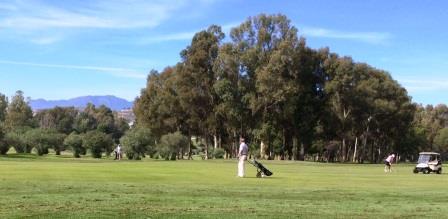 On the west coast is where the broadest selection of golf courses and golf academies  are concentrated, such as "Valle Romano Golf Resort" in Estepona,  "Finca Cortesín" , "Golf Club" in Casares, "Escuela Benalmádena Golf", "Escuela de Miguel Ángel Jiménez" in Torremolinos and "La Cala Golf Academy" in Mijas Costa. In Marbella, we find countless opportunities to take up the sport or to perfect our technique, in schools such as "La Quinta", "Marbella Country Club", "Cabopino Golf Marbella", the "Escuela International", "Santa Clara Golf" and "San Pedro Golf Club".
Enormous wavy greens, narrow lanes and water hazards spread across different golf holes all exemplify the quality of golf in Costa del Sol, which combine to create a splendid sea of green that contrasts with the blue sky and sea which makes golf a sport to be played all year round.
Most courses have a 5-star rating, and offer different rates for visitors to play golf, ranging from 30 Euros to above 100 Euros depending on the time of year and the player's needs.
Golf in Costa del Sol offers keen players and beginners a non-stop, quality games and competitions. This is thanks to the excellent climate and the quality of the region's facilities, which is complemented by a wide range of leisure options and alternative activities that go hand-in-hand with the tastes and style of the golf tourist.